Scorps Spotlight 6: Yuri Tussolini
To call Yuri Tussolini multicultural would be an understatement. Born in Italy and a former resident of Brazil, Tussolini is now a junior at Cam High who enjoys playing and watching soccer, skating, surfing, and sleeping.
Tussolini claims to be a descendent of Benito Mussolini, the fascist dictator and leader of Italy during World War II. "They changed our name after the war, from an M to a T, in order to not be considered a fascist because of our last name," he said. "People from the family who stayed in Italy actually kept Mussolini or changed to Mussolin."
Born in Pompeii, Tussolini recalled his hometown as a place with uncommonly friendly townsfolk. "We have a saying in Italy that we are the most welcoming people in Europe, and I do agree with that," said Tussolini. "Of course we are proud to be Italian, but my parents and my family accept everyone that comes. The treatment is always the same whether you are a tourist or not." Although Pompeii is Tussolini's place of birth, he considers Naples to be his home in Italy because of the time he spent there growing up.
Tussolini says that Naples has improved drastically as a city since he lived there. "Its problems with hospitals and sanitary conditions have been solved, so it's a good place to go now. In Naples, my favorite experience personally is going to the Napoli games."
After his time in Naples, Tussolini moved to Curitiba, located in southern Brazil. "People who go to Curitiba usually think it's a different Brazil," said Tussolini. "They've tried to get independence since the 80's, because their financial status is way better than the rest of Brazil. It's heavily industrialized."
According to Tussolini, the elevated financial position of Curitiba in Brazil has resulted in an elitist mentality. Since most other regions in Brazil lack a strong local economy, Curitiba and similar regions make up the majority of Brazil's wealth. "It's the most European city in South America," he said, referring to the European ethnic groups that dominate the population.
After his mother decided to return to California, where she grew up, Tussolini's family relocated to San Diego and then moved to Camarillo.
As for Camarillo, Tussolini said, "Personally, I think people are not as welcoming as in as in other parts, but I […] expect that. It's just the culture here. I think it is a very clean city, I don't see many things that are dirty in the streets. In Naples, there is a lot of garbage that is not collected in some parts."
However, his opinion is not completely positive. "It just amazes me how many hobos there are around Camarillo, Los Angeles, and Ventura. Their part of Camarillo has so many homeless people. I understand that some people do not have the opportunities in life, but it is just abysmal to think that some people are like that in a country that [has the capacity to] provide you with so much."
A junior presently, Tussolini wants to become a billionaire in the future but has not figured out how he will get there yet. With ambitions to travel the world and experience new cultures and peoples, he has considered a more nomadic lifestyle, traveling from city to city picking up jobs to earn enough to move again.
Leave a Comment
About the Contributor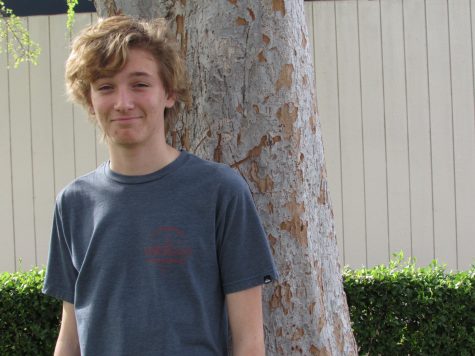 Morgan Menin, Retired Staff Writer (2014-2015)
Hey, I'm Morgan, a staff writer for the Cam High Stinger. I'm a junior, 17 years old and I enjoy cinemas-- especially my sci-fi films, but I love my Japanese...