Fall Seasonal Styles
From footwear to jackets to scarves, several Cam High students view autumn as an opportunity to showcase their unique clothing styles.
Christian Serrano, senior, especially enjoys wearing a variety of textures. "Fall is probably my favorite season to dress fashionably, because I get to layer, and that's my favorite thing to do. My outfits tend to have multiple colors and layers." said Serrano. "When it's very cold I love to wear shawl collar sweaters, but since it has not really gotten to freezing temperatures, the most essential piece of clothing for my outfit tends to be flannels paired with some kind of jean."
Senior Seth Herrera lived in Arkansas for seven years before his transfer to Cam High. His clothing style followed the change in locale, adapting to better suit the Californian climate. "In Arkansas, I would wear full winter clothing – long sleeves, thick wind breaker jackets, and a beanie. I wore boots [in Arkansas],  and I don't here. I think the most amount of clothing I'll wear here all winter is maybe a long sleeved shirt, jeans, and a light jacket."
Certain fall accessories have also become favorites among the Cam High student population. Celina Zakarian, senior, loves to wear black lace leather boots during the fall. "It's just an accessory that I like to wear with my daily fashion already. I am someone that has very dark taste, and I think that anything that has black leather or lace in general can help show off that dark taste," said Zakarian.
Tights also claim multiple fans, even during the fall weather. "I love the look of them, because they are thinner than leggings and a bit see through, but they are still a bit conservative," said senior Samantha Tovar. "You can wear them with dresses, and they looks very classy and it still keeps you warm."
"Fashion gives me a sense of freedom to be who I want." said Serrano. "Depending on the type of mood I'm in, I can display it through how I dress."
View Comments (1)
About the Contributor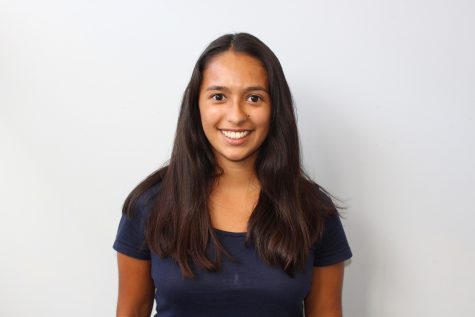 Cristina Farias, Staff Writer
Writing has become an outlet for me. A way to escape and let myself drift off into another world of senses imagery and. I love the outdoors, I especially...