Cam High marks Hispanic Heritage month
National Hispanic Heritage Month, or Mes de la Herencia Hispana, celebrates the history, culture and contributions of those whose ancestors came from Spain, Mexico, the Caribbean, Central and South America.
Cam High ASB is helping the school get into the spirit of this month. "[ASB] already started putting posters and other things around the school," said Kyle Gonzan, senior and ASB president. "The posters we put up show biographies of Hispanic people who have had an effect on history."
Gonzan also said that ASB is planning an as-yet-unnamed event to celebrate National Hispanic Heritage Month.
National Hispanic Heritage Month began on September 15 and will continue through October 15. It first began in 1968 as Hispanic Heritage Week under Lyndon Johnson's presidency, and was later expanded into its current state under President Ronald Reagan's administration. The tradition continues to this day.
According to the Hispanic Heritage Month website, "The day of September 15 is significant because it is the anniversary of independence for Latin American countries Costa Rica, El Salvador, Guatemala, Honduras and Nicaragua." Mexico  and Chile also celebrate their independence days within this 30 day period.
This year's theme is "Hispanics: A legacy of history, a present of action and a future of success."
"Hispanic Heritage Month is great because it's a chance for people to really learn about our rich and interesting history and culture," said Christopher Tapia, senior. "I think this theme pretty much sums up the main idea, or goal, of [Hispanic Heritage Month]. Hispanic culture influences all of us."
Last month, U.S. president Barack Obama issued a proclamation that recognized the accomplishments and influences of the Hispanic peoples throughout history and briefly addressed the issue of immigration policies. "This month we honor the rich heritage of the Hispanic community and celebrate its countless achievements," Obama said.
Mr. Victor Palezuelos, Social Science teacher, said that he is happy that the U.S. Government is acknowledging the diverse culture present in the country. "It's good to know that [the government and the people] are recognizing different cultures in America, and their contributions," said Palezuelos. "I try to recognize the contributions of minorities. This month I will pay particularly close attention to those of Hispanic background."
Palezuelos is currently part of a "banda", a type of Mexican brass band which originated in Sinaloa, Mexico; the town where Palezuelos' father's family is from.  The banda musical style came to be when the musical styles of the German immigrants, living in Sinaloa at the time, blended with more traditional Mexican musical styles.
Palezuelos' banda played last year at lunch in the quad for a Cinco de Mayo celebration and may do something similar this year to celebrate National Hispanic Heritage Month. However, Palezuelos said that a performance may not be possible because many of the band members have day jobs.
"I think it's great because it lets people see the accomplishments of Hispanics," said Tapia, senior.
Leave a Comment
About the Contributor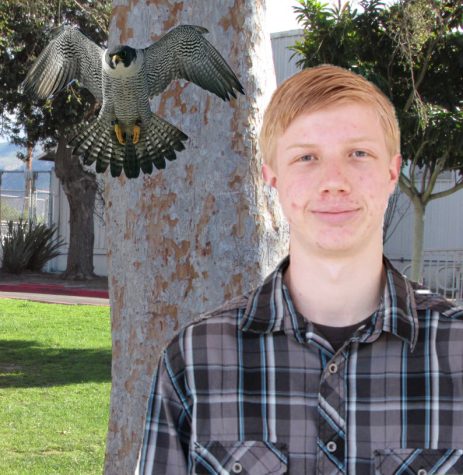 Sam Falconer, Retired Staff Writer (2014-2015)
Hi, I'm Sam Falconer. I'm a senior this year, so, yeah. Anyway, I am a film connoisseur and an avid reader and writer. I am also a lover of all things...