Dry as dust
With Camarillo's long drought and intense heat wave, district officials are instituting water-saving protocols including cancelling all car-wash fundraisers at school sites and covering the Cam High swimming pool when it is not in use.
"The OUHSD is complying with the drought restrictions imposed by all of our water utility providers," said Mary Ann Larrieu, OUHSD Engineer and Energy Conservation Specialist. "We have adjusted irrigation schedules at all the schools in the district and we are also exploring rebates and incentives on water efficiency technology to further reduce water usage."
Larrieu explained that the city of Oxnard will be able to provide funding for smart water controllers. "These irrigation controllers act like a thermostat for sprinkler systems, telling them when to turn on and off and use local weather and landscape conditions to tailor watering schedules to actual conditions at the site. Instead of irrigating using a controller with a clock and a preset schedule, smart controllers allow watering schedules to better match plants' water needs."
Rules have also been implemented for the faculty and students at the schools to follow. "Groups that use the four swimming pools in the district have been making sure to cover the pools when not in use to reduce water loss from evaporation," said Larrieu. "We are not permitting car wash fundraisers at our sites in order to help ensure the availability of clean drinking water."
In order to successfully combat the drought, there had to be cooperation between the district and local school authorities. "Administrators and school officials at the OUHSD have been very supportive of [the district's] efforts to conserve water and they recognize that we must all do our part to preserve this essential natural resource," said Larrieu.
In addition, Oxnard Union High School District is recognized by the U.S. Environmental Protection Agency as having Energy Star building certifications. Energy Star is a U.S. Environmental Protection Agency (EPA) voluntary program that helps businesses and individuals save money and protect our climate through superior energy efficiency.
Individuals as well as the district are making a clear effort to battle the extensive heat. Mrs. Ariana Pike, Electronic Data Processing Operator, has been providing ice cold water to all staff for free in order to counteract the heat. "I've had about 25 people a day [getting water]," said Pike. Last year, Pike passed out water during the heat wave and has done so again this year since September 16.
"I am part of the staff club," said Pike. "We do anything we can to improve morale for all staff."
Leave a Comment
About the Contributor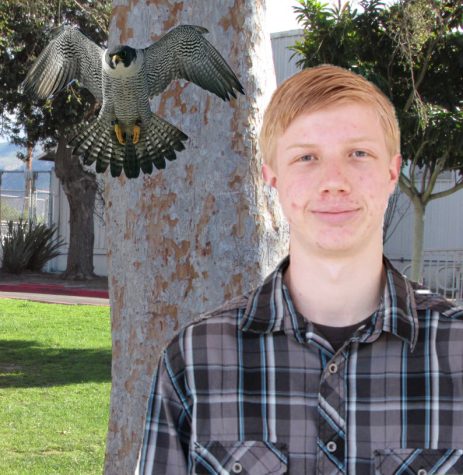 Sam Falconer, Retired Staff Writer (2014-2015)
Hi, I'm Sam Falconer. I'm a senior this year, so, yeah. Anyway, I am a film connoisseur and an avid reader and writer. I am also a lover of all things...