Scorps Bleed Better than Most
Cam High students bled all over the cafeteria on May 21 and 22 as more than 100 of them donated blood through the annual United Blood Service Blood Drive.
Over 125 donations, referred to as units, were donated on Wednesday and an additional 100 units were donated in the following days, making a total of almost 250 units donated from Cam High alone. Cam High contributes the largest number of units out of all the schools in Ventura County.
"It's really great to see so many kids donating blood," said Mrs. Sherie Devillers, senior donor recruitment representative. "It helps so many people, and the majority of the donations go to local hospitals like the Pleasant Valley Hospital and the St. John's Hospital, so it really is directly giving to the community.
The United Blood Service is a non-profit organization dedicated to aiding those in need of heart surgery, organ transplants, cancer treatment, chronic transfusions, bone surgery, and victims of severe heart accidents.
Cam High students who gave blood were easy to spot due to the blue stretch tape administered around their arm.
"When they first put the needle in, it stung a little bit, but after awhile, you get used to it," said Harrison Cho, junior, a second time blood donor.
"My grandpa donated a lot of blood, like a lot of blood over the course of his life, and I respected that a lot, so I wanted to donate, too," said Paul Sarinana, junior, while explaining what motivated him to give blood. "It aches a bit, but it's worth it for the cause."
Students who donate six units over the course of their high school career are eligible to receive a red chord at the time of their graduation.
Elise Umetsu, sophomore, had been eager to donate blood this year, and noted that it was nice to be rewarded with a distinguishing graduation chord. "I was planning to give blood anyways so it's convenient," said Umetsu. "Why would you pass the chance to help somebody out?"
Reasons for donating blood varied amongst the students.
"I guess I wanted to help people and get out of class," said Tony Lisi, junior.
In order to donate, a student must be sixteen years or older, meet a weight requirement proportional to their height, and have no signs of sickness on the day of their donation.
Donors were given food and refreshments after the procedure was completed.
"The people were very friendly, and they gave me cookies and water! I'm glad that I got the opportunity to save one person's life," said Mina Pasaraba, senior and third time blood donor.
The United Blood Service hold their drives at Cam High twice a year, once in the fall and once in the spring. Students interested in donating blood at the next blood drive can sign up in Mrs. Mary Harris' office.
Leave a Comment
About the Contributor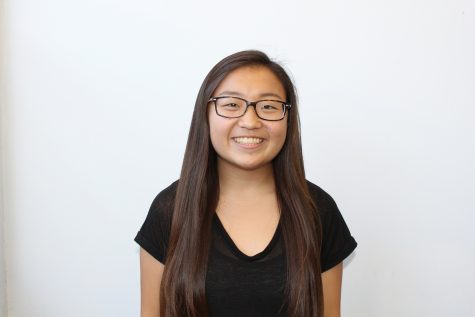 Amy Shim, Retired Editor-In-Chief (2015-2017)
Hello hello, the name is Amy, and this is my third year working for this beloved publication. Unsurprisingly, I love to read and write, but perhaps some...