Digging up the Dregs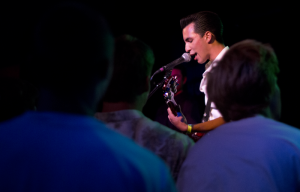 Dregs from Somis, a band formed by three Cam High students, lit up the stage with a blazing performance at last year's talent show by setting Jorge Garcías' drum set on fire. But the band is more than flashy pyrotechnics and cheap thrills.
Dregs–not to be confused with Steve Morse's Dixie Dregs, a progressive rock band with a number of hit songs, consists of three Cam High students and one from Newbury Park High School. Paco Macias, senior, is the bassist, Garcías, senior, is the drummer, and both James Cruz, senior, and Sammy Espinoza, senior, are guitarists and singers.
Dregs was also the center of attention at this year's Club Rush. They performed on the stage in the middle of the quad at lunch on September 25th. While hundreds of Cam High students rushed around to find belonging in a campus club, Dregs set the mood by playing both cover tunes and original songs. Some of the songs they played included "Lonely Boy" by The Black Keys, "R U Mine?" by Arctic Monkeys, and an original called "Surprise".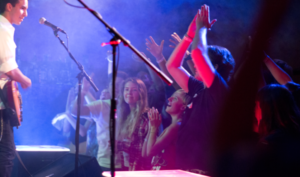 The foursome has booked a number of gigs in Ventura County and their star is on the rise. They've performed at the last two talent shows and last year came in second place, while continuing to play private parties and other shows.
"Our music comes from listening to a lot of Arctic Monkeys, Black Keys, Cage the Elephant, and NOFX," said Macias. "Every band has their own unique sound. That's the point of creating your own band."
Exploding drum sets and smashing guitars do not a rock band make. But making music, listening to your influences and carving an original path, in fact, do. Dregs performs regularly at Rock City Studios in Camarillo among other local venues.
Leave a Comment