A New Life for an Old Friend
Mrs. Virginia Meyerson, retired Cam High athletics secretary and a well-known member of the Cam High community, suffered a stroke last year. The injury was severe, paralyzing Meyerson and she was rushed to Saint John's Pleasant Valley Hospital.
Meyerson was not expected to survive the first couple of days after the stroke, but she did and spent nearly a year in rehabilitation.
After being in Saint John's Pleasant Valley Hospital for 10 months, Meyerson was moved to physical therapy rehabilitation in a facility associated with Los Robles Hospital and Medical Center in Thousand Oaks for three weeks.
Today, though unable to walk, she is with her family, able to communicate and retains a full memory of her life at Cam High.
Mrs. Donna Maygren, social science teacher, has been friends with Meyerson for a long time. "She is a wonderful person," Maygren said, "She was more than a secretary, she talked to students and teachers and greeted people."
Maygren has been helping with an upcoming dinner event and fundraiser for the Meyerson family and is happy to be helping. She is part of the Friends of the Meyerson Family, an organization dedicated to raising funds to help ease the cost of Meyerson's medical care, and is doing whatever is needed to help her.
Hunter Taylor, a Cam High alum, is now attending classes at the National College of Technical Instruction (NCTI). During his time at Cam High, Taylor was the teacher's assistant for Meyerson before she retired and had her stroke. He visited her once when she was in the hospital and looks forward to seeing her again soon.
"Virginia was really different. She knew the school better than everyone, but didn't feel like she was better than everyone," said Taylor.
"She was the secret machine behind the school. Everything that happened in the school went to her in some way," he added.
Taylor was surprised when he got the news that Meyerson had a stroke. "I drove home one day and heard from my girlfriend that Meyerson was in the hospital," Taylor said. "I pulled over and let that sink in. It was shocking and it felt unreal. But when I came back to school, I saw how much it impacted the school and how real it was."
Madison Lockwood, senior and ASB president, is another student at Cam High who was a friend of Meyerson. "She was best friends with my grandpa, so when she was at Cam she took care of me like my grandma," said Lockwood. "I think of her as very caring and genuine."
"If I needed someone to talk to or to help me or give advice, she was the one person I knew I could see, and she was happy to help," Lockwood said. "She tells great stories, and she gives very good advice."
While Meyerson was in the hospital, Lockwood went to see her. "She had really good spirit. She knew that this would change her life, but she was very optimistic about it," said Lockwood.
Friends of the Meyerson Family is an organization that is trying to raise money for Meyerson's medical expenses. It consists of different families and groups that help because they know and care for Meyerson.  The group is described by Maygren as "a wonderful army of people who help and continue to visit her."
"We're trying to do something really significant for her. The community of Camarillo loves Virginia so much that they're helping her. Living in Camarillo gives a small town feeling and we all care about each other," Maygren said.
A fundraiser dinner will be held to raise money to continue supporting Meyerson on May 29 in the cafeteria from 5 pm to 7 pm.
Posters have been put up around campus to promote awareness for the event. Tickets are available and are being sold by a number of Cam High staff members for $10 until May 27 and will be sold at the door for $15.
View Comments (1)
About the Contributor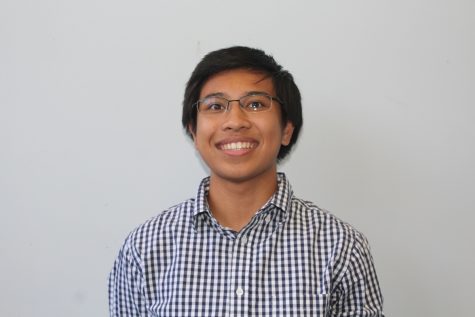 Gaberiel Delacruz, Staff Writer
Hello! My name is Gaberiel Delacruz and I have been apart of the Stinger for four years. I love interviewing people because it's one of the best parts...