Winter Guard Takes on Spring
As their competition season comes to an end, Cam High's winter guard further established an already successful year, placing first at Golden Valley High School on March 21 and second at Chino Hills on March 30.
The members of Cam High's guard attributed their consistent wins to their unique show, titled "A Positive and a Negative."
"I've been in guard for a long time," said Jesse Castillo, freshman and co-captain of Winter Guard. Castillo's middle school offered a Winter Guard program. "I can say that this year's show is very different, with lots of interesting dances and tricks."
"If you come to one of our competitions, you'll notice that our show really stands out from the other schools. Everyone else's music is lyrical and their dance involves a lot of ballet. Ours is hip hop. We're not trying to look pretty, our show is supposed to look scary," said Abby Flowers, freshman and first year guard member.
Winter guard is a form of entertainment similar to art theater, using props and recorded music synched to a choreographed show. According to its members, guard is not as widely known by the student body because it is not offered as a class, and does not count towards credits needed to meet graduation requirements.
"Everyone joins cheerleading, but I decided to do guard, even if its strictly an extracurricular activity. We're not as peppy, we don't toss each other around. It's more professional and artistic," said Castillo.
"It's definitely a positive atmosphere to be in. Everyone is pushing each other because we all want to be the best team that Cam High has to offer," said Flowers. "I dislocated my shoulder during one of our performances, but do I have any regrets? No. No regrets."
The guard came in eighth place at finals in Huntington Beach over spring break with a score of 78.89.

Leave a Comment
About the Contributor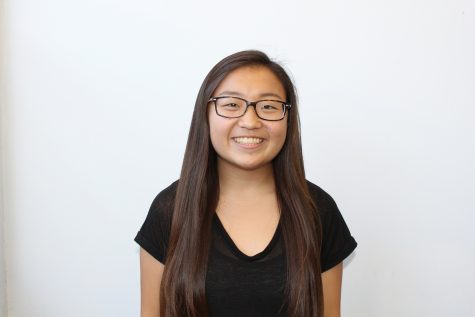 Amy Shim, Retired Editor-In-Chief (2015-2017)
Hello hello, the name is Amy, and this is my third year working for this beloved publication. Unsurprisingly, I love to read and write, but perhaps some...