Retiring On a High Note
Music director Mr. John Stava has announced his retirement after 35 years of teaching, nine of which were spent at Cam High.  He previously directed bands at Madera High School, Lindsay High School, Tulare Western High School, and Orosi High School.
"I've had a phenomenal run here at ACHS. It's been a great time for me, just nine years of great joy," said a reminiscing Stava.
The Cam High music department, particularly the marching band, transformed under Stava's leadership, as evinced by the sheer growth in numbers of band students. With Stava's guidance, the band won numerous awards and recognition, including placing fifth out of all of Southern California in 2011.
"I don't think we even had a marching band before Stava got there," said Courtney Norris, trombonist and percussionist in both jazz and symphonic band, as well as a choir leader at Cam High. "I mean, maybe we had some sort of program going, but it was never taken seriously until Stava came and turned it around."
Stava plans to retire to his new home in Washington with his wife Sherry. He especially looks forward to furthering his own musical studies by playing advanced etudes with fellow trumpet players at Pacific Lutheran University, located in nearby Tacoma.
"I was actually supposed to retire two years ago. Back when I first started teaching, 62 was pretty much the defining age for retirement, but when I was getting there, I decided I was having so much fun that I'd have to stay a little longer," said Stava. "If you get to work with the kids I work with, I don't care what kind of job it is .You'll love it all the same."
Personally, Stava finds his own joy through his beloved trumpet, which he began learning in the fifth grade.
"Stava's the best trumpet player I know, hands down," said sophomore Aaron Talabucon, who also plays the trumpet. "I mean, he really can make a sound that only comes with years of experience."
Stava performed as principal trumpet with the Tulare County Symphony for 21 years and is a founding member of Run-4-Cover, a rock band based in central California.
"He's always encouraging people to consider music as a career path, not in a way that's annoying, but in a way that inspires you to go after what you're passionate about," said Erica Shim, a senior baritone horn player.
"I'll miss his humor, and I think the band program might even suck without him next year," said Clarissa Ebdane, a senior who plays clarinet. "But knowing him, he'll pick a good new band director for next year."
In light of his own pursuit of "having fun", Stava also emphasizes the importance of finding one's source of happiness. "You have to find your joy everyday. For a lot of kids, that involves music. For others, it doesn't, and you know what? That's okay, but everyone needs joy!"
Leave a Comment
About the Contributor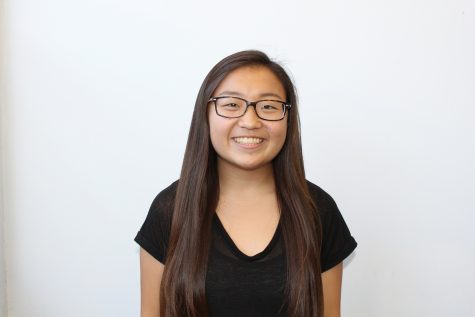 Amy Shim, Retired Editor-In-Chief (2015-2017)
Hello hello, the name is Amy, and this is my third year working for this beloved publication. Unsurprisingly, I love to read and write, but perhaps some...