Scorpion Hoopsters Unify, Dominate
The Scorpions traveled to Oxnard to take on the Yellow Jackets on Jan. 17 and  muscled their way to victory, knocking off Oxnard for another Pacific View League win.
Oxnard boasted a strong record of 17-2 (2-0 in league play) before the game, intimidating a Scorpion team who came into the match-up, 14-6 (2-0 in league play). However, Cam High came into the game fresh from a road win over Channel Islands High, 87-44.
The Yellow Jackets, riding a five game win streak, looked to improve their outstanding record, only losing two games to powerhouse Notre Dame High, 75-61, and to Canyon High, 57-55.
The game was a close, defensive battle throughout the evening, having many lead changes.
The Scorpions were losing by a game high seven points midway throughout the third period. Cam High clawed back into the game, though, taking a lead of 45 – 44 with 7:06 left in the 4th period.
From there the Scorpions traded leads with the Yellow Jackets.
The Scorpions took the lead for good, 58 – 57 with 2:53 left in the 4th period after turn-overs by Oxnard. Cam High ended strong with 68-62 for the final score.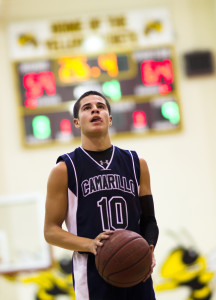 "I'm really happy where we are at and looking to take games one at a time," said Coach Allan Sadowsky about the win, "But we will never be satisfied."
Cam High has upped their pressure in league play leading to aggressive, tough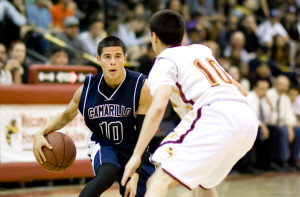 defense,which has led to scores in the win column. The referee at Friday night's game didn't appreciate the physical play and called a number of fouls, including a technical foul on Michael Marin, senior. Team members declined to comment.
Cam High will now take on the Tritons of Pacifica High in the Scorpion Dome on Jan. 22. The Tritons are 13-6 (3-0 in league play), meaning the winner of this game will take over the number one spot in the Pacific View League standings.
Leave a Comment