Homecoming Highlights
[slideshow_deploy id='46928′]
Fifties-themed spirit days, a booming rally, and a victorious football game fueled the excitement during last week's homecoming preparations, culminating in the homecoming dance that took place on Saturday in lower parking lot.
The spirit days — Baby Boomer Monday, "Born in the '50s, Dress Like You're 60" Tuesday, Grease Wednesday, and Disney Thursday — aligned with this year's homecoming dance theme, The '50s Walk of Fame. On Friday, individual classes dressed in their assigned colors: seniors wore white, juniors wore black, sophomores wore pink, and freshmen wore silver.
The homecoming rally featured the long-awaited announcement of the homecoming king and queen, chosen from two girls and two boys of the senior class. Frankie Tostado and Sara Silveyra were crowned homecoming king and queen, respectively, and Alicia Sanchez and Alan Nichols were crowned princess and prince, respectively.
The rally also featured a mummy-wrapping game and musical chairs with members of the homecoming court, which junior prince Pablo Martin won. "Everyone in my grade went crazy when Pablo won," said junior Melissa Wasylewski who attended the rally, sporting her class colors. "Cheering for both of my friends, Maddie and Pablo […] during musical chairs was so much fun."
Varsity cheer and varsity football also performed their usual choreographed dance together.  "The rally was as exciting as always," said Wasylewski. "Being able to show off my class spirit is one of the many things I look forward to at the [rallies]." Senior Autumn Truax agreed and said, "The rally was really good. Watching musical chairs was fun, because the guys were [really getting into the games]."
The homecoming dance was held on Saturday, Nov. 7 from 8 to 11 p.m. in Cam High's lower parking lot. The dance featured a DJ, photos by Visual Photography, and a large dance floor where the over 1,000 attendees could dance and enjoy the night. "Overall, [the dance] looked spectacular, and the DJ was pretty decent," said senior Bella Husted.
"I feel this homecoming was definitely more fun than last year," said Truax. "The lights were amazing, and the heating lamps were a great touch."
The theme of the dance resounded well within the student body, and many students showed up to the dance dressed in dapper, '50s styled clothing. The DJ also played '50s music, and students danced and jived to the music of the time. "The decorations [that] the dance and the rally had were very cute," Wasylewski said. "I wish ASB would have done more with the theme than what they did, but, [overall, the theme was well-incorporated] into the dance and rally."
"I thought that [the dance] was better compared to past dances," said Husted. "I was happy with what I received."
Leave a Comment
About the Contributor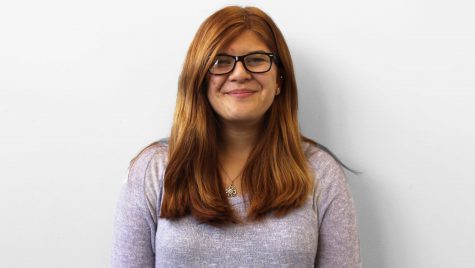 Jordyn White, Staff Writer
Hello! My name is Jordyn White and this is my first year on the Stinger! I have always loved writing, and, I plan on majoring in English in college. Due...