Picasso, paintings, and personal reflections
[slideshow_deploy id='14514′] Photos by Hailey Fulcomer
Forty A.P. Studio Art and A.P. Art History students experienced everything from contemporary installations to Claude Monet during a field trip to the ACE Gallery and the Los Angeles County Museum of Art (LACMA) on Oct. 20.
"Any time a student can participate in a field trip, it enriches their ability to learn," said Mrs. Bonnie Mills, art teacher and chaperone. "It's an experience."
Students first took a stop at the ACE Gallery, located on Los Angeles' "miracle mile," that boasts a reputation as the oldest and longest running contemporary gallery in the western United States. It claims to "balance a selection of emerging and mid-career artists with artists who have become fully established over the last four decades," according to their website.
Some of the gallery's current exhibitions include Laddie John Dill's Contained Radiance: Miracle Mile, explained in the site's press release as, "glass tubes containing various gases, radiating colored light through segments of hand-colored glass, illuminating their surroundings in a precise and controlled manner," and Berner Venets' Intermediate Lines and Arcs, which features a crane "bending and twisting long, heavy, three-dimensional steel poles."
"The ACE gallery was interesting, because the entire gallery was a minimalistic piece in itself." said senior Hannah Harris. "It felt like I was stepping into someone's mind."
After a lunch break, only a short walk down Wilshire Boulevard led the students to the equally accredited Los Angeles County Museum of Art (LACMA), the largest art museum in the western United States.
"[The museum is] super easy to navigate, not to mention the architecture is beautiful, and definitely not boring," said A.P. Studio Art student Sarah Gay, senior. LACMA holds approximately 150,000 different pieces of art spread across multiple buildings, from various different movements and traditions, including European, Asian, and Latin American works. "Something in particular that I really like about LACMA is that when I return, I always find something new," said Harris. "I really enjoy being able to see new paintings every single time I go."
"I think [the museums] are very similar in the sense that they have a diverse collection of art," said A.P. Art History student Juliette Kippen. "It's really great to have that kind of variety in a museum, and I think that a lot of them strive to have that."
Many students discovered particular art pieces they enjoyed from the trip such as Antoine-Jean Gros' Portrait of Second Lieutenant Charles Legrand. "I really liked that is was so detailed. I was instantly attracted to it," said Kippen. Gay, however, prefers a more multicolored piece. "[Breathing Light by James Turell] was a purple illuminated screen, but the more you look at it the more it changes colors- it was so cool," said Gay.
Some students felt their personal art aspirations strongly influenced by the trip. "It definitely makes me want to be a better artist. I see the beautiful things that people can do with their own hands, and it makes me want to do things like that," said Gay.
"People claim nowadays that art is fading, that it's on the down-slope, and if you have a career in art you are not going to be successful, but you have to realize that they made these huge influential galleries for artists," said Harris.
"[Viewing art] can be life changing in that it makes it real for them. It's not just looking at a book, but participating in something. Participating in themselves, " said Mills. "It helps them recognize that they are a part of something special by taking this class."
View Comments (1)
About the Contributor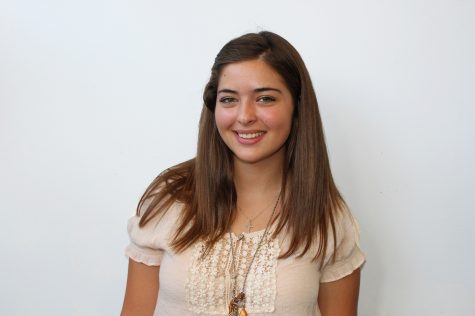 Hailey Fulcomer, Staff Writer
Hallo! I'm Hailey, an eighteen-year-old senior and staff writer for the Stinger this year. As the president of the ACHS German club, I love history and...