Academic Decathlon expands its reach
Cam High's Academic Decathlon is a club that centers around encouraging students to further their own academic knowledge while ultimately preparing for the competition against other schools.
The team meets once a week to prepare for the annual Ventura County Academic Decathlon Competition on Feb. 6, 2016.
"The students get to meet new people," said Mr. John Foster, aca-deca adviser. "They study in groups, with friends and learn good study habits."
The club holds no try-outs, and anyone interested in participating is accepted. "It's nice, because anyone can join. It's not only smart people competing, like most people think," said senior Emily White. "We need students in all grade point averages."
This year, there is an increased number of members, with about 15 students currently signed up. "Academic Decathlon is smaller than other groups and clubs," said White. "We're all close and know each other well."
Members meet every Thursday during lunch in Foster's room, N-5, to prepare for the competition. During these meetings, students review their assigned readings and practice the two types of speeches required for the competition: a written speech of two to three minutes, and an impromptu speech of one to two minutes.
According to Academic Decathlon members, Oxnard High School, last year's victors, and Westlake High school, remain some of the more competitive schools in competition with Cam High.
In addition to the change in its membership numbers, Academic Decathlon has also condensed its previous two-day competition format to a condensed one-day competition.
White thinks that the shortened time of the competition is due to the unnecessary intervals of students idling in the cafeteria. "With the two-day competition, people were sitting in the cafeteria all day," said White. "So this year, it's condensed into one day. It also makes it more accessible to all the students who can't make it both days."
However, Foster believes the length change stems from economic factors. "It's less money for the county, who holds it," said Foster. "It saves funds having only one day."
The Academic Decathlon competition consists of two speeches, an interview, an essay, and seven subject tests: math, social science, science, art, music, language, and economics.
The teams compete with other Ventura County teams, and one winner moves onto the state competition. "The team is made up of 3 students in each of the three GPA categories, below 3.0, 3.0-3.74, and above 3.75," said Foster.  "The team score is made up of the top 2 scores in each GPA category and determines who goes to state."
Along with the competition, there is also a scrimmage on Dec. 12 where students will be tested to determine their proficiency in their subjects. "All the Ventura County teams take practice tests in the seven subjects areas," said Foster. "Nothing counts, it's just for practice."
Academic Decathlon is currently in need of students in the 2.99 and below GPA category to join the team.
Leave a Comment
About the Writer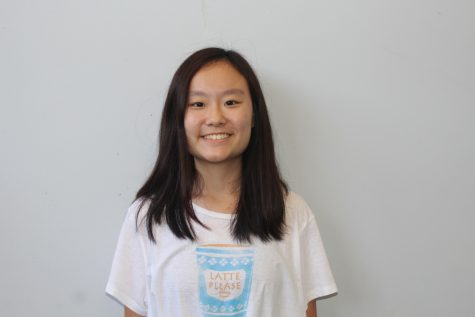 Kristi Chu, News Editor
Hello! My name is Kristi Chu, and I am a senior at Cam High. This is my second year on the Stinger staff, and I'm so happy to be the news editor this year!...