Mrs. Tawney Safran recognized by Stanford undergrad
A surprise gift from Stanford University was revealed at Back to School Night on Monday, Sept. 28 in the Cam High gymnasium .
Principal Kim Stephenson presented social science teacher Mrs. Tawney Safran a certificate for excellence in teaching from Stanford University. The certificate was given on behalf of one of Safran's former students, Ami Hayashi, who nominated her as the teacher who inspired her the most.
Safran regarded this unexpected award with great positivity. "I'm truly honored, primarily for a few reasons," Safran said. "One, that Ami took the time to say such kind words about me, and to submit them, to acknowledge me, even though she has left high school […]. Secondly, the fact that Stephenson decided to, once again, address and acknowledge me in front of everybody. It made me definitely feel happy, and proud, and honored, and […] a mix of emotions. It reminds me why I am doing what I do."
Former students of Safran's AP European History course felt she deserved the award. "I'm overjoyed for Mrs. Safran, because she was one of those once-in-a-lifetime teachers who sought to inspire and encourage students," said Christine Robins, junior.
"I think Safran is a really good teacher," said Harrison Mello, junior. "She helped her students to excel throughout the year."
The award, according to Safran, was not only indicative of her own influence, but the positive influence of all teachers at Cam High. "I am really receiving this honor on behalf of all other teachers at school who have contributed to somebody in some way, too," she said. "And they just happened to choose me, that night. It's really everybody here, it's a collaborative effort."
Safran teaches to help students grow. "I truly love what I do, and I have learned so much from my own experiences," she said. "And every single thing I do shapes me into a better mom, a better teacher, and a better friend. I try to relate that to my students, and have them find their own voice, have them learn from mistakes, and have them constantly challenge themselves to take risks. [To] help them manifest into something powerful, and beautiful, and unique."
Leave a Comment
About the Contributor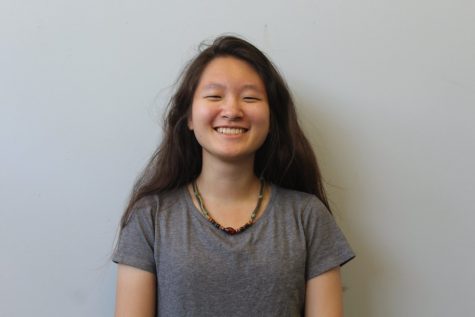 Chun-Tzu Huang, Features Editor
Hello everybody, I am Chun-Tzu Huang,  a senior, and it is my second year on the Stinger staff.  I am a lover of creative writing and a bit of a writing...