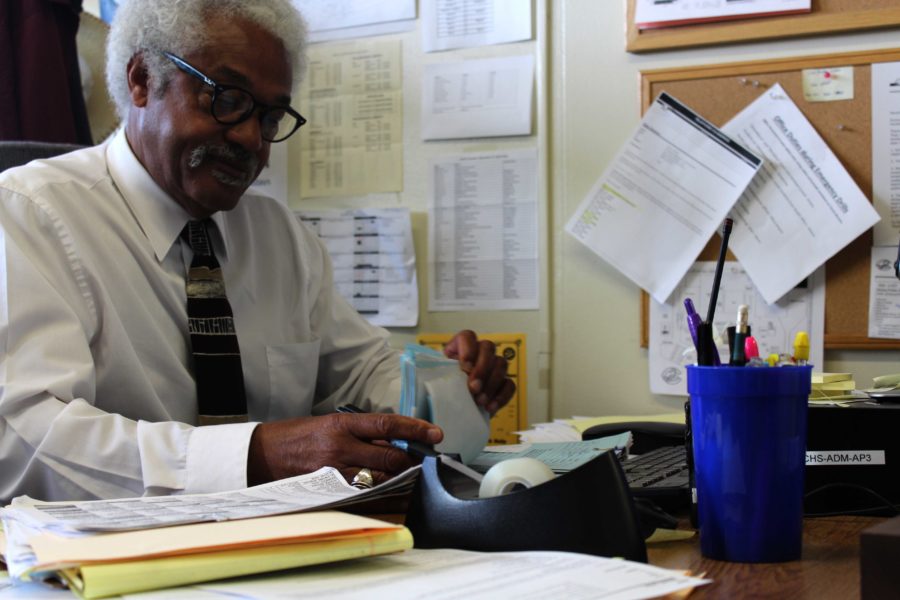 Associate principal James Edwards temporarily joins staff
After associate principal Ms. Adriana Pulido took an extended absence for maternity leave, the Oxnard Union High School hired Mr. James Edwards, former Oxnard High School principal, to be her temporary substitute.
Edwards assumed the role of associate principal on Jan. 25. "I have a real positive feeling about being here at Camarillo High School," he said. "My job involves being a team player and trying to learn the ins and outs of what the principal's priorities are for the school and which direction she's taking the school in."
Edwards received his Bachelor of Science degree from Weber State College in Ogden, Utah. Following his undergraduate education, he attended the University of California, Santa Barbara, where he earned his Master's degree in education, with an emphasis in counseling psychology. He then completed his education at Azusa Pacific University in Azusa, California, where he obtained his administrative services credential.
Before coming to Cam High, Edwards worked as a principal at Oxnard High School for nearly ten years. "I retired as a high school principal from Oxnard in 2010," Edwards said. "A year later, the Oxnard Union High School District called to see whether I'd be interested in subbing as an administrator at a particular school they had in mind."
Since then, Edwards has subbed as a principal at Hueneme High School and as an assistant principal at both Channel Islands High School and Pacifica High School. He is also no stranger to the environment at Cam High. This is his second time subbing for a Cam High associate principal, his first experience being in 2014.
An educator for over ten years, Edwards finds joy in his career. "What's rewarding to me is to see young people grow into their academics, as well as their future careers," he said.
Edwards' life outside of school involves spending a majority of his time outdoors. His hobbies include going for joyrides in his sports car, playing golf with his friends, and traveling. "Every weekend, I like to take my Porsche out," Edwards said. "When I'm not traveling, I feel like I'm missing out on what's happening in the world."
Once the general fiscal year ends on March 17, Edwards will revert back to his normal retiree routine. "I'll get back into my day to day routine of exercising, reading the LA times, taking my car out, and just hanging out with some of the retiree friends."