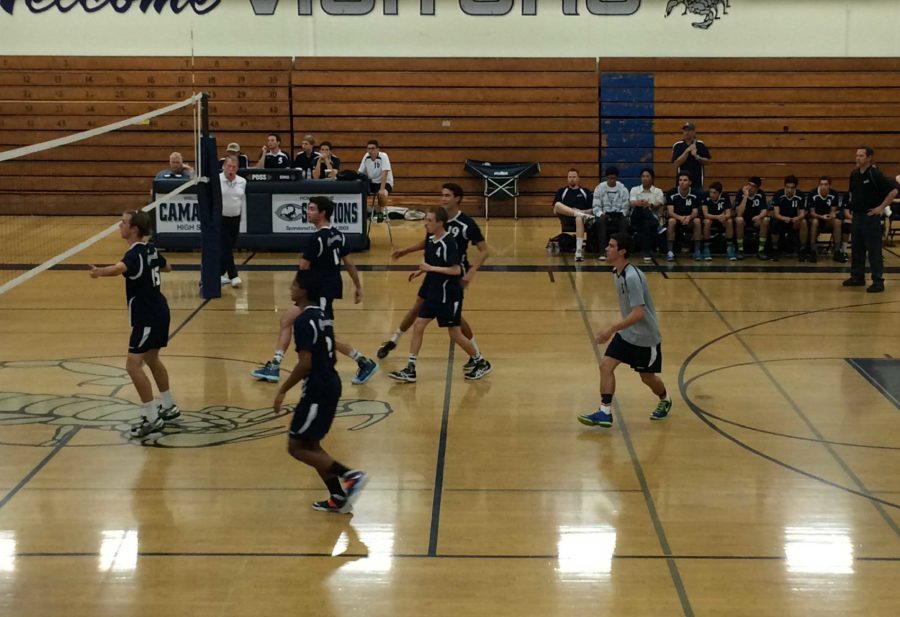 Keira Witham
Cam High's boys' varsity volleyball defeated Pacifica High School's Tritons Wednesday night during a non-league game in three consecutive matches.
The Scorps have been league champions for the past four years, so playing their former league mate, the Tritons, was a game that would surely lead to bragging rights.
The game started off with the Scorpions serving the ball. Although losing their serve, Cam High came back with a "kill", a hit that gains the team a point, by senior, Matt Yoshimoto. In the next few minutes of the first match, Pacifica took the lead due to various rule violations by Cam.
After ten minutes of losing, Cam High was able to catch up with the Tritons after a kill by middle-blocker, junior, Bradley Kooker. Within the next minute, the Scorpions were able to gain a lead of one point. From there it was a constant battle for the lead. Ties between the teams continued until Cam High finally won the match with a two-point lead of 27-25 (two points over the normal winning number of 25).
For the second match, Pacifica got the chance to serve first, but Cam High stole the first point. Seven minutes into the game Cam High was ahead by six points, proceeding their lead with an "ace", a point from serving, by #7. Directly after, Pacifica called a one minute time-out.
Eight minutes after Pacifica's time-out, Kooker blocked a hit by one of Pacifica's hitters, increasing the score to 20-9. In a matter of three minutes Cam High again defeated Pacifica with a kill by Yoshimoto, ending the match 25-10.
All the Scorpions needed was one more winning match to win the whole game. The third match started out with slip-ups by tired players, letting Pacifica take the lead. It wasn't until twelve points into the game that Cam High was able to regain the lead. However, the Tritons were determined to win and the battle of tying scores began once again.
Nineteen minutes into the match Cam High was able to break the tie and reach game point. Yoshimoto made his last serve and, after a quick rally, Pacifica was unable to return the ball back to Cam High, thus ending the game with a score of 25-20.
"I think I did alright," said Yoshimoto. "I don't think we played that [well] as a team."
Sophomore setter, John Paul Dillard believed the team did "pretty good" and that "people were hitting [well] off [his] sets."
Head Coach Mr. Rob Vandermay agreed with Yoshimoto that the team did not play to their potential. "As a coach all I care about is that we play our best," said Vandermay.
The team will continue to practice for the Coastal Canyon League by participating in harder tournaments and scheduled games. "We need to be focused every point , every set, every match," said Vandermay.