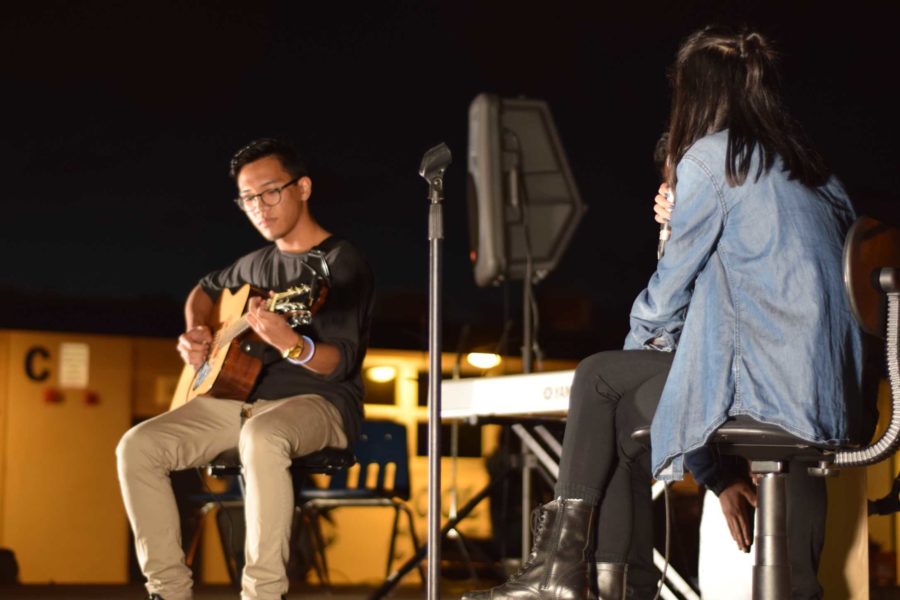 Photo by: Cecilia Bach-Nguyen
Cam High's KIWIN'S club hosted a Benefit Concert in the quad on Friday,  Feb. 3 to raise money to combat world hunger. The concert began at 5:30 p.m. and ended at approximately 8 p.m.
Many students, and even social science teacher Mr. Matthew Doyle, performed to benefit the organization Stop Hunger Now. According to their website, the organization works with impoverished and vulnerable people in different parts of the world, and "distributes food and life-changing aid" in hopes to end hunger by 2030.
"[The Benefit Concert] was our first proper fundraiser for this year," said junior Justin Lieb, KIWIN'S president. "The KIWIN'S District Governor chooses a project to be called the 'governors project' for the term and [Stop Hunger Now] is what they chose for this year." 
As for organizing the concert, KIWINS organized a network of 4 subcommittees with general members working to publicize, decorate, and schedule performers, all of which were volunteers. 
There was a chance of rain that would move the concert to the cafeteria, but the rain stopped at around 11 a.m. and did not effect the concert. "[I was] surprised at how much talent there is here [on campus] and loved how everyone seemed to let loose and let their talent shine,"  Hannah Gregson, junior, said.
"Turnout seemed a bit smaller than [last year], most likely due to the weather, but [I was glad] that the crowd consisted of more students than families," said junior Logan Porter, KIWIN'S treasurer, who performed an Irish dance at the concert with his partner Molly Waldmon,  junior at Thousand Oaks High School. 
Lieb projected the revenue of the concert to be between $1000 to $1200 for the club. According to Porter, the club raised over $1700, which exceeded the prediction and is the equivalent to providing over 5,800 meals for those in need.
The club sold nachos, burritos, doughnuts, hot chocolate, and much more at the concession stand. All of the proceeds made from the food were also donated to Stop Hunger Now. KIWIN'S also handed out raffle tickets and gave out prizes to the audience, some of which were donated by Big Straw Boba, Beach Dog Fun, Twenty 88, Boulevard Burger, Doug Hill CPA.
According to junior attendee Kellie Farrell, the crowd contributed largely to the fun of the event. "[I] loved the variety of talent and the different ways everyone chose to showcase their own unique abilities, [as well as] the atmosphere of the crowd when someone was performing,"she said.