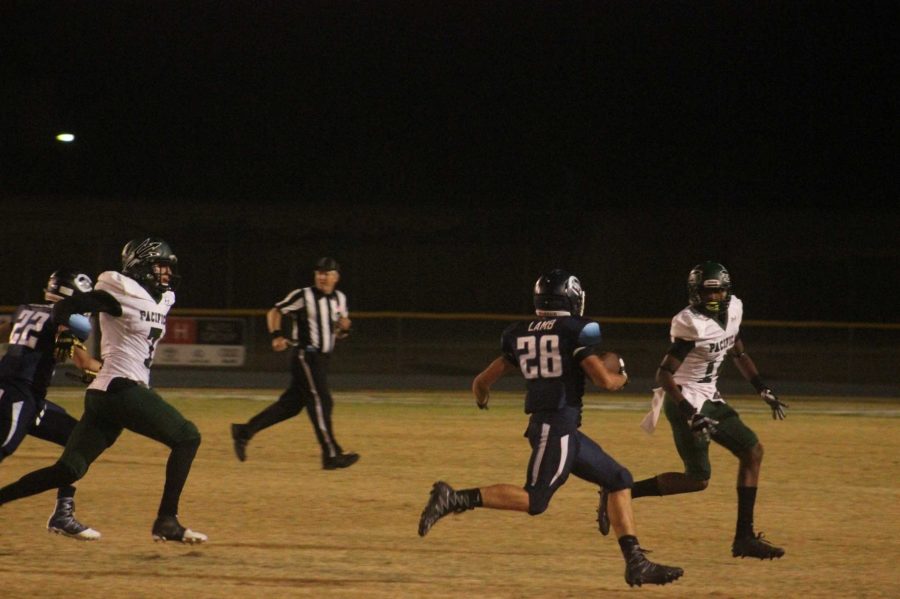 [slideshow_deploy id='59053′]
Cam High's varsity football team lost to the Pacifica Tritons 29-48 on Friday, September 9.
Cam High entered the game with a 1-1 record, following a 28-17 win versus the Rio Mesa Spartans and a 25-28 loss to the Saugus Centurions. Pacifica also entered the game with their own 1-1 record. After a tough loss to Saugus last week, the Scorps were looking to pull out a win.
The game started off slowly as both teams went through a series of three-and-outs. With about two minutes left in the 1st quarter, Pacifica scored a 23-yard touchdown strike to the back of the end zone to put the Tritons up by seven points. Cam High responded right away on the next possession with a 47-yard touchdown by senior running back Aaron Lamb, tying up the game.
In the second quarter, Cam High struck first with a 33-yard touchdown pass from junior quarterback Jake Moss to senior wide receiver Thomas Janke. The touchdown gave Cam High their first lead of the game at 14-7. As halftime approached, Cam High gave up a long 47-yard run followed by a three-yard touchdown to Pacifica to tie the game. The two teams ended the first half tied at 14-14.
In the third quarter, Pacifica started to roll over the Scorpions as they scored four straight touchdowns to put them up 14-41. Even while down, the Scorpion Cyclone and the crowd continued attempts to encourage the team. On the next play, Cam High decided to try something different and substituted in senior quarterback Jonathan Hugo for Moss. Following Hugo's entrance, Lamb broke free to score a 51-yard touchdown rush to soften Pacifica's lead. The quarter ended with the score of 21-41.
To start off the fourth quarter, Cam High got the ball back and scored another touchdown, as senior wide receiver Jonah Cottrell wrestled through Pacifica's defense and went down with the football delivered by Hugo. Lamb punched in the 2-point conversion to put the score at 29-41.
With a possible Cam High comeback brewing, Pacifica quelled those chances and ended the game with a 72- yard drive for a touchdown, then stole the ball from the Scorpions twice as Cam High surrendered back-to-back turnovers. Throughout the game, Cam High struggled to hold onto the ball, turning it over five times.
The players stressed how important it is to stick together and stay strong as they head into their game next week. "You can't come out weak minded. You've got to be mentally and physically strong," said Lamb.
"We just got to get energy. Energy and unity. Everyone is hanging their head down. That's all we need, energy," said Hugo.
The biggest criticism of this year's team among the students is the loss of several seniors from last year's team; however, many believe that despite this, they can still pull off an amazing season. "If our boys work hard and help each other and grow as a team like last year's boys did, then I think they can do it," said senior Hellen Orellana.
The Scorpions will play their next game away at Dos Pueblos on Friday, September 16.
Tony Thai contributed to this story.