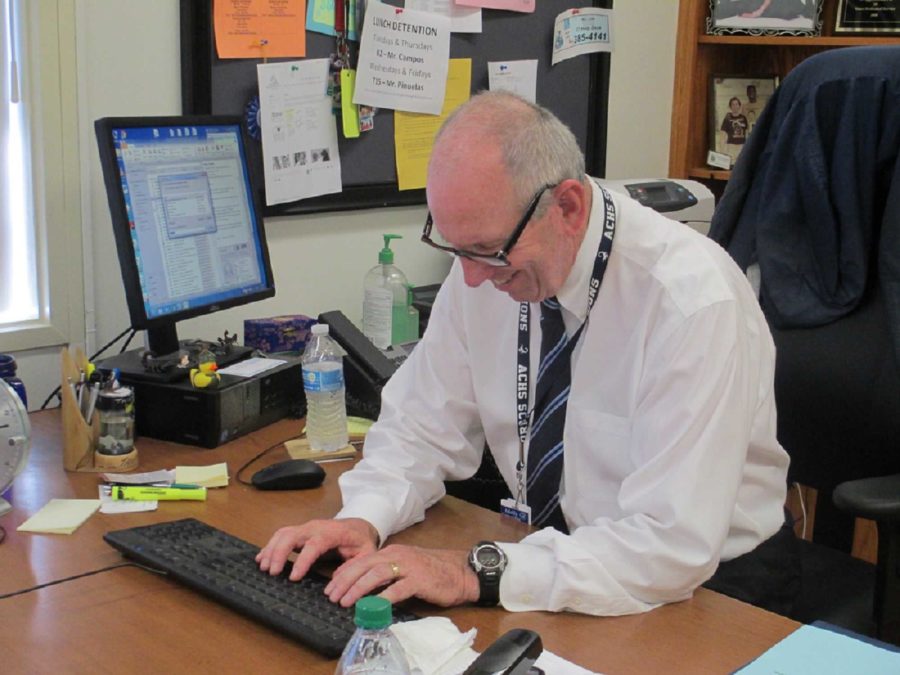 Principal Mr. Glenn Lipman started off the year with his annual assembly on the school's rules, policies, and history.
The assembly, given to each grade level individually on September 5, served as a way to remind students of the rules and expectations that go along with being a Scorpion.
Sheriff's deputy Sean Eskridge, Cam High's school resource officer, has been serving Cam High for two years and feels that Lipman's speech is a must for the school. "I think the rules are good. [Lipman] has a very distinct way of telling them. He doesn't try to sugar coat it or hide it which I think is good."
For Lipman, the assembly as a whole was enjoyable, with interactions between familiar and new faces. "The whole idea is for a positive school culture that we can all enjoy," he said.
The speech was especially relevant for new students of Cam High. "It's a good way to start the year," said Frida Garcia, sophomore. "It's important for incoming [freshmen and] sophomores to know that they have limitations."
While important for newcomers, many returning students felt that the assembly has become repetitive. "I think it's necessary, but it's more necessary for the first two years. Juniors and seniors should have it shorter," said Mariah Perez, junior.
Despite some seniors feeling the assembly is "unnecessary," others believe it helps set an example for Lipman's administration. Senior Yazmin Ramos said, "I think it helps establish a sense of authority and sets the precedent that bad behavior won't be tolerated, allowing for a safer environment."
Still, Ramos said she understands the criticism from juniors and seniors. "At the same time, by senior year, you've heard it three other times, so you're not really paying attention anymore."
In the end, many new Scorps believed the assembly was helpful. "[The assembly] was nice," said Aaron Salac, freshman. "I know now what to do and what not to do."
Although students are now expected to know the extent of their limitations, Sheriff Eskridge said he is willing to help out any newcomers who are confused. "Seniors know the rules," he said. "But freshman are new and I'm here for them."
"I'm looking forward [to the year] a lot," said Sheriff Eskridge. "I enjoy watching people grow and seeing them graduate."